This Bank of America EDD card login guide will provide useful information on how to use the EDD card. We will first talk about the bank and explain the card's purpose and special role.
Then, we will look into some common issues users have when using online banking. Finally, we will provide some security tips in order to help you safely carry out your online banking activity.
About Bank of America
Bank of America is the second-largest bank in the US and ranks among the top ten largest banks in the world. In the US, it has more than 5000 branches and 16 000 ATMs. It offers clients the complete set of banking services, from debit and credit cards to mortgages. To ensure that eligible clients can easily access state benefits, Bank of America introduced the EDD debit card.
What is an EDD Debit Card?
The Employment Development Department debit card (EDD) is a banking solution created especially for clients who are eligible to benefit from unemployment aid, family payments, and other benefits. The card is issued directly by Bank of America, is valid for three years and is directly mailed to the beneficiary.
Once the account is set up, the payment of all benefits will be made automatically into your account, which you will then be able to access by using the EDD debit card. In addition, Bank of America has also set up an online banking service for EDD debit card users. You can find the Bank of America EDD card login page here. Once on the page, simply click on the "sign in" button in the upper right-hand corner of the page and enter your username and password.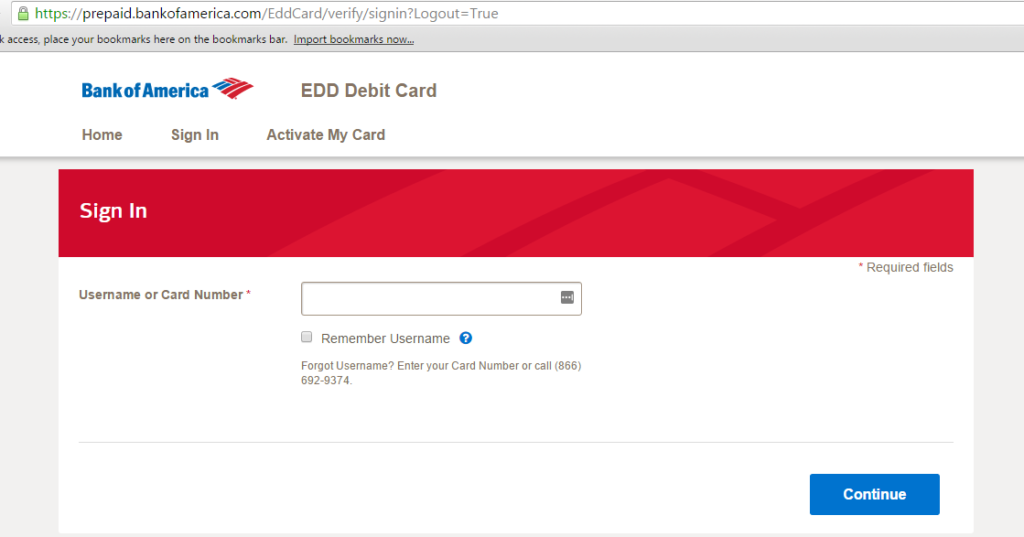 The Bank of America EDD card login page is available 24/7 and may be accessed from any standard device with good internet access. However, we recommend that you observe a number of security precautions before logging in, which we will talk about in a second.
How do you Use an EDD Debit Card?
You can use the EDD Debit card to access or view funds in your account in three ways:
Use the Bank of America EDD card login page to access your online banking dashboard. There, you will be able to check your account balance, transfer funds to other accounts and manage payments.
Use your EDD card to make online payments/purchases. Your EDD card will work similarly to any normal debit card, so feel free to use it for online purchases and payments.
Draw Cash from an ATM. The EDD card allows you to draw cash from any VISA-compatible ATM. There is no fee for using Bank of America ATMs and you may use ATMs from other banks 2(two) times without being charged. A withdrawal fee will apply, however, for the next withdrawal at a non-Bank of America ATM. The specific fee for such a withdrawal depends on the agreement between Bank of America and the other bank.
Bank of America EDD Card Login – Technical Requirements
Before you access the Bank of America EDD card login page and start using the online banking application, you should first make sure that you have addressed some key technical requirements. The main points to be made here are as follows:
Use an updated browser. It is very important to use an updated browser whenever you are carrying out online banking activities. The main reason is that an updated browser will ensure good website functionality. You will consequently be able to view all pages correctly, and all the website's feature will work as intended. In addition, out of date browsers are riddled with security vulnerabilities. As online banking activity is constantly in hackers' crosshairs, make sure you use an updated browser to avoid any regrettable experiences.
Don't block cookies. Cookies have an important function when it comes to your internet experience. Among others, they "tell" the website what device and software you are using, so that all the features are displayed correctly and load as quickly as possible. Allow cookies for the Bank of America EDD card login page to make the most of your online banking experience.
Have a good internet connection. It goes without saying that before you do anything you must first have a good internet connection. The online banking dashboard is designed to be both secure and useful, and will imply the transfer of a relatively large amount of information online. As such, a good internet connection is required in order to maximize the quality of your online experience.
H2 Bank of America EDD Card Login – Common Issues and Practical Solutions
The vast majority of login problems derive from mistakes in entering login data. When you set up your account, make sure you store your username and password in a safe place, though it would be advisable if you could memorize them and not keep a written record.
Make sure you are typing everything correctly, check if symbols and numbers are working properly and if Caps is on or off.
If you do forget your login data, simply click the "Forgot Username" button on the login page and enter your card number. If this does not work, you can always call (866) 692-9374 to receive assistance from customer service staff. The line is available 24/7.
Bank of America EDD Card Login – Security Recommendations
Before using any type of online banking, you should observe some important common sense security rules and principles. These are extremely important in protecting you from online scams, or worse, the compromise of your personal data and account security. Here are a few suggestions which can keep you safe when using online banking.
Make sure you are using the real Bank of America EDD card login page. Fake online banking pages intended to trick users into entering their login data are not unheard of. Check whether you're using the real login page by looking for the green lock in the left of the address box.
Keep your login data secret. Never reveal your login data to anyone. Ideally, memorize it and don't keep it written anywhere, either on paper or digitally. This will greatly reduce the chances of your account being hacked.
Use a personal device. When logging in, do not use public networks or devices. The safest way is to do it at home, where you can be confident that no one has been tampering with your device.
Use updated antivirus/antimalware software. Before you use online banking, make sure your computer is malware-free and protected from future attacks. Download and install an antivirus solution and carry out a full system scan and a boot-time scan.
Using the Bank of America EDD card login page is easy and straightforward. If you follow all the steps and take necessary safety precautions, there is no reason why you should have any difficulties in using your EDD card online.