Smilebox is a program that can help you create slideshows or digital photo albums. It can be a fun way for you to store photos online, access or edit them from anywhere, and create albums that reflect your personal style. To access them, you will need to complete the Smilebox login
Our guide will show you how you can sign in to your Smilebox account using the step-by-step instructions we've outlined in the sections below. You will learn how to access your Smilebox account from your desktop computer and various mobile devices. We'll offer a section on any technical issues you might find and let you know how you can contact the company.
Smilebox Login at www.smilebox.com
Open your computer's preferred browser and go to the Smilebox main page at www.smilebox.com.
Click on the "Sign In" button in the top right-hand corner of the page.
Note that you can sign in to the site with your existing Smilebox credentials or by connecting Smilebox to your Facebook account.
If this is your first time with Smilebox, you will need to create an account first.
You can connect to Smilebox via social media or through your email address.
Click "Log In" and enter your email address and password.
You can choose to have the service remember you so that you don't need to do this next time.
Note that you can download Smilebox as a program that runs on your desktop and signs you in automatically every time you open it.
Smilebox Mobile Login Guidelines
You can login to Smilebox from your mobile device by following the steps we've outlined below.
Open the browser application that your phone uses and go to the smilebox main page at www.smilebox.com.
Scroll down to the middle of the page and click on the "Get Started" button.
A new window will open on your screen. This window is similar to the one that appeared on your desktop when you clicked on the "Sign In" link.
Enter your email address and password to sign in to Smilebox or connect with the program via Facebook.
Smilebox Mobile Login for Apple Devices
You can use an app Smilebox created specifically for Apple devices to sign in to the program using your Apple phone.
Open the iTunes store app on your Apple phone.
Search for Smilebox Moments in the app's search bar.
Download and install the app.
Open Smilebox Moments and sign in to the app using your existing login credentials.
Use the app the same way you would use the desktop version of the program.
Smilebox Mobile Login for Android Devices
Unfortunately, Smilebox does not have a dedicated Smilebox Moments app for Android devices at this time. However, you can still sign in to Smilebox from your Android device using the general mobile login instructions above.
Smilebox Login Help
If you have any trouble signing in to Smilebox, you may wish to submit a request to the Smilebox Help Center. This page has a section with frequent queries or troubleshooting problems that may provide you with an answer. If you don't find a solution to your problem here, you can submit a personal request using this form.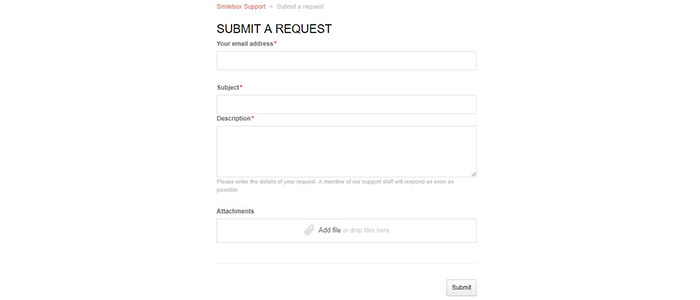 Smilebox Contact and Links
If you would like to get in touch with Smilebox directly, you can do so in a few ways. Once you scroll down to the bottom of the main page, you will see links for various social media accounts. You can contact representatives at Smilebox using their Facebook or Twitter accounts here. Alternatively, you can send a message to support@smilebox.com.