Tenet employees can manage their Tenet careers using the online employee portal available at www.etenet.com. The eTenet portal allows you to view and manage your employee benefits, Tenet schedules and more. In this article, we will explain the eTenet login procedure, so you can easily access the Tenet employee portal no matter where you are.
Etenet Login Guide: Completing the www.etenet.com Login
The following section will explain the eTenet login steps. If you are a new user, you will have to first register your account. To register your account, go to the eTenet login page, www.etenet.com and click on the "New User" link. This link will take you the account registration page, where you can activate your eTenet employee account.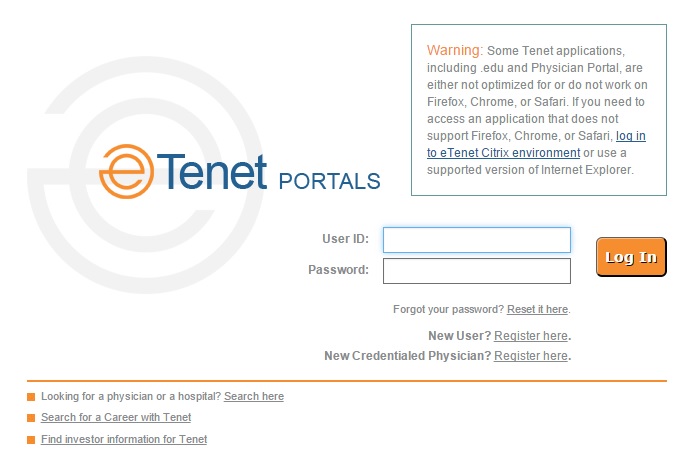 Once your account is registered, you can log in using the following steps.
Visit the eTenet employee website, www.etenet.com. Alternatively, you can visit mytenet.com to reach the login menu.
Type in your eTenet User ID. You should have received this User ID from Tenet HR. If you don't have your User ID yet, contact your Tenet HR manager, or call 1-800-639-7575.
If you are a Tenet Physician, you can Request Access to your eTenet account by clicking on the link available on the eTenet account registration page.
Write the password associated with your eTenet account.
Click the "Log In" button on the right. This should complete the eTenet login procedure and allow you to access your employee account.
eTenet Mobile Login Guide
To access your personal eTenet account on a mobile device, follow these instructions:
Open the eTenet employee platform at www.etenet.com or www.mytenet.com using your mobile browser.
Enter your eTenet username in the first field of the login menu.
Write your password in the second field.
Tap the orange button to complete the eTenet login procedure.
eTenet Login Problems
There may situations in which you run into trouble with the eTenet login procedure. The most commons problem is forgetting your password. You can recover your password by clicking on the on the link below the password field in the login menu. This link will allow you to reset your eTenet password. To reset your password, you need to fill in your eTenet login credentials, answer your security question and then write a new password for your account.
For any login problems that you cannot solve yourself, contact eTenet support at 1-800-639-7575. Likewise, if you type your eTenet login information incorrectly multiple times, your account will be blocked. Contact the support team in this situation as well.
Bear in mind that the eTenet employee website doesn't work well in certain browsers. If this is the case, you need to access the eTenet website through Citrix environment. This may an issue if you are using a Mac or other iOS device.
Tenet Contact and Support
As mentioned, for any issue or questions regarding the eTenet login procedure or employee website, you should contact the Tenet support team by calling 1-800-639-7575.
If you are not yet an employee but would like to start your Tenet career, you can take a look the Tenet Careers page at www.tenethealth.com. You can also contact the Tenet Corporate phone number, 469-893-2000.
For more information about Tenet Healthcare in general, visit the official Tenet website, www.tenethealth.com.